Our Professionals
At Old South, we aim to be as transparent as possible with who we are, who works with us, and therefore, who will be working in your personal space—your property. Clients can refer to our website at any point in the season to read about who, specifically, will be working on their property and project. Find out about Careers at Old South
Bren Silk, Director of Operations
In 2006, while attending the University of Western Ontario, Bren launched Old South Lawn, Garden & Construction. Since then, Bren has built the company from a humble one-man team to a well-respected landscaping company in London, Ontario.
With a natural ability for developing strong, cohesive teams, Bren has added new professionals to the company over the years, and works hard to create an enjoyable place for them to come to work each morning. With over 10 years of industry experience, Bren manages all operations and client relations for the business, and will most likely be the person who answers the phone when you call.
When the workday is done, Bren can often be found cooking or preforming bluegrass music, either on his banjo, fiddle or guitar for his little ones, Essery and James.
Jonas Le Roy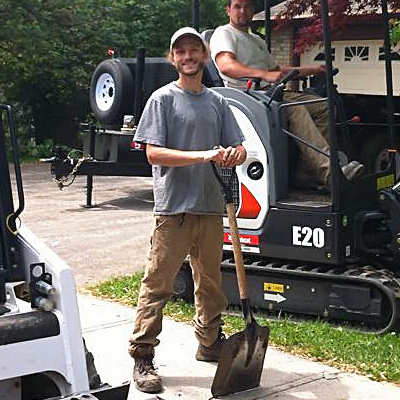 Originally from Lannion, Britanny, France—a Celtic region on France's northwest coast—Jonas started landscaping in his father's company at the age of 14. From there, Jonas went on to graduate from Fanshawe College's Horticulture Technician program in 2011, and worked for a large landscaping company before beginning his career with Old South.
Now an Old South London resident himself, Jonas is fascinated by plants and enjoys collaborating with nature to find the right balance between natural elements and human input.
Jonas feels most at ease outdoors, enjoying traveling and hiking, as well as playing and collecting musical instruments. He also continues to further his education in permaculture design (sustainable gardening), and is bilingual (French/English).
Jonas enjoys simplicity, taking things as they come, and is rarely to be found stressed. Inherently a helpful person, he is also credited as being a good cook.
Megan Silk, Director of Marketing
With Bren's decision to launch the company in 2006, Megan was inspired to use her communications background to create a one of a kind experience for their clients and staff. A small town girl from Grey County, Megan fell in love with London's Old South neighbourhood and the friendly atmosphere of Wortley Village. As young newlyweds, she and Bren made Old South their home in 2005, and together decided to bring that same approachable feel to their new company.
A graduate of Media Studies program at the University of Western Ontario, Megan manages Old South's marketing strategy and enjoys planning staff events (educational or fun!) whenever possible.
In her spare time, Megan can be found out and about in Wortley Village, or chasing after her three little toddlers and two cocker spaniels at Thames Park.